Our Mission
To enhance the physical and psychological quality of life for wounded Veterans by providing custom trained mobility assistance service dogs (at no cost to the Veteran).  It all comes together in our Passing of the Leash Ceremony.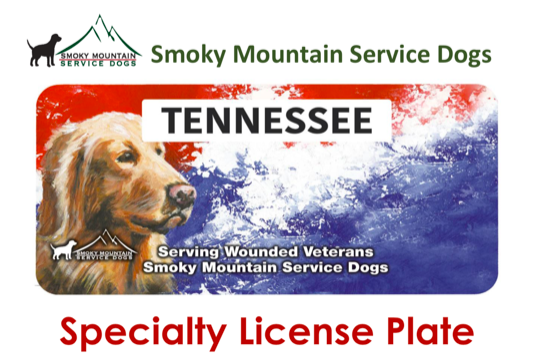 Smoky Mountain Service Dogs Fundraiser
Smoky Mountain Service Dogs is pre-selling custom license plates to Tennessee residents. Plates are $35 . Go to Facebook for more information. View our Flyer
Our Beliefs
We believe that through appropriate utilization of a public access tested/approved, highly trained service dog, individuals with physical and/or psychological disabilities can often become increasingly self- sufficient and independent.
We believe that a large percentage of disabled individuals can experience a higher level of societal and community involvement and acceptance through effective use of a service dog.
We believe that it takes community involvement to insure the success of Smoky Mountain Service Dogs and our clients. The contributions of individuals and groups within the community will be welcome, appreciated, and honored.
We believe that positive reinforcement is the best form of service dog training and we shall remain committed to training our service dogs in a way that encourages trust on all levels.


The only charity that gives back a higher percentage of donations, is your own personal volunteering
Smoky Mountain Service Dogs operates with over 140 community volunteers and zero administrative costs, over 95 cents of each donated dollar goes directly to the care/training of our service dogs and the wounded Veterans who receive them.
To learn more about how to donate to Smoky Mountain Service Dogs, click the Donate button.

The sheer number of tasks a service dog learns to execute will astound you.
Click here to see a list of a Service Dog's capabilities.
Opportunities to Volunteer.
Click here to see a list of Volunteer opportunities.
Our Dogs.
Click here to see pictures of our hero dogs who are training for their own hero.
---
Accredited By Assistance Dogs International.
SMSD has been awarded Gold Star Accreditation by Assistance Dogs International. This validates that the facilities and operation of the SMSD program meets or exceeds ADI standards.

---
Exciting New Veteran/Canine Training Center - Anticipate Ground Breaking in the 1st Quarter of 2019

---
Service Dogs Frequently Asked Questions!
Click here to view FAQs.
---
Contact Us
For Volunteer Opportunities contact our Volunteer Coordinator at [email protected]
For Veteran questions contact Suzy at [email protected]
Fundraising or Civic Group Presentations, contact Mike at [email protected]
---

Last Update: January 2, 2019
To access this page directly, bookmark: http://www.tellicolife.org/Smoky-Mountain-Service-Dogs