Christ Our Savior Lutheran Church



---
A Place to Worship, to Learn, to Serve

Welcome to Christ Our Savior Lutheran Church. We are located in Loudon County, Tennessee just off highway 72 approximately one half mile west of highway 444. Many people recognize us by our beautiful white church and Christian Ministry Center.
Christ Our Savior Lutheran Church is a warm caring fellowship of Faith. Our congregation, which has grown to over 300, strives to communicate God's awesome gift of love to our ever changing world. We are a collection of natives of East Tennessee and transplants from other parts of the country who now call East Tennessee our home. 

We share a common faith in Jesus Christ Our Lord and Savior. What can you find at Christ Our Savior Lutheran Church? 
through the many activities at Christ Our Savior Lutheran Church.
We provide spiritual education via our library, our youth group, Adult Bible classes, new member orientation and our Sunday school for children. 

Make new friends and enjoy the fellowship of others by taking part in activities such as Sunday coffee, tea and sweets, social outings, men's breakfast, and our church choir & chime group. Reach out and join our various ministries which strive to make a difference in others lives in our community. Ministries like Heaven Scent Blankets for premature babies, Heavenly Helpers, Prayer Chain, Card Ministry, and Stephen Ministry. 

We invite you to get to know who we are at Christ Our Savior Lutheran Church 
to discover God's presence in our ministry
to grow as one of His disciples together
to worship God together with us
Our Sunday morning schedule includes worship at 8:30am and 11am with Fellowship at 9:30am and Bible Classes and Sunday school at 10am. Join us this Sunday to see what the Word of God, the love of Christ and the inspiration of the Holy Spirit has created within our community. 

Values, love, prayer, hope….all of this can be found at Christ Our Savior Lutheran Church. 

Christ Our Savior Lutheran Church, reaching and equipping families for Christ in East Tennessee.
---
Our Beliefs

The Bible is the inerrant word of God.
All men and women are sinners and are in need of salvation.
God would have all people saved.
Christ is the only way to eternal life.
The great commission is given to all believers.
Christ is truly present in the Lord's Supper.
There is great power is prayer.
Worship of God may take many forms.
Jesus Christ calls us to love one another.
Discipleship is a journey that is completed only at life's end or the Lord's return.
---
Ministry Links
---
Sunday Service Times

Traditional Service - 8:30 AM
Blended Service - 11:00 AM
Adult Bible Class/Sunday School - 10:00 AM
---
Listen to and/or view past Sermons by clicking here.
---
To learn about Jewel click on the image below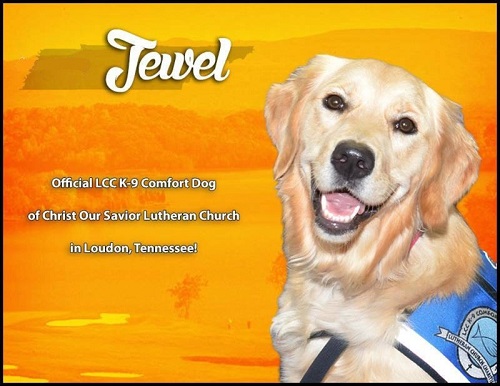 ---
To view the Church Brochure click on the image below


---
To Contact Us

260 Wade Road West, Loudon, TN 37774
Office Phone: (865) 458-9407 Office Fax: (865) 458-8531
E-mail: [email protected]

Rev. Brian Truog, Senior Pastor

Rev. Mark R. Rhoads, Assoc. Pastor

Office Hours: 9:00 a.m.-2:00 p.m. Monday-Friday
---

Click here for directions to Christ Our Savior
---

First Published: September 1, 2018
Last Update: September 15, 2018
To access this page directly, bookmark: http://www.tellicolife.org/Christ-Our-Savior-Lutheran-Church
---