Creating a life in a new community
When you make the move to East Tennessee you will meet new friends, explore new restaurants, find new doctors and begin to consider what will be the next adventure in your new life.  A wonderful new stage of life is started. At the Community Church we have found that many residents have discovered us to be the right choice for their new church family. We focus on caring, being warm and friendly, with powerful messages that are directed to cultivate believers, disciples, and servants to transform our community and world for Christ.
---
Join us in service and make a difference
| | |
| --- | --- |
| Sunday Service | Open Communion Served |
| 9:00 AM | Every Sunday |
| 10:15 AM | Every Sunday |
Our services are best described as a blended worship style with an 80+ person choir, hand bells, and an organ. Come by and enjoy some fellowship, meet our members, enjoy a few donut holes before or after every service. We would love to meet you. 

Our new guest information meeting, Starting Point, is held on the second Sunday of each month after the 10:15 service. Come meet our pastors, hear our message and ask any questions you may have. We will welcome you with smiles, coffee and fresh donut holes.
 We are an active group of fun and interactive people that serve our community, each other and our church family. Our calendar of activity is packed with events you can join to meet new friends, engage in service or simply relax and enjoy your new life. Click here to see our calendar.
Watch us live online.
We are unique and a special place to worship
At our roots we are an interdenominational community church. This means that we do not rid ourselves of the denominational heritage brought by our members. Rather, we embrace and celebrate them. Methodists, Baptists, Episcopalians, Presbyterians, Lutherans, Catholics, Congregationalists, Reformed Church, etc. have many good gifts to share, and much to learn from each other. This approach also enables us to produce a more powerful Christian mission to the community and the larger world. Together, we are able to do much more than as individuals.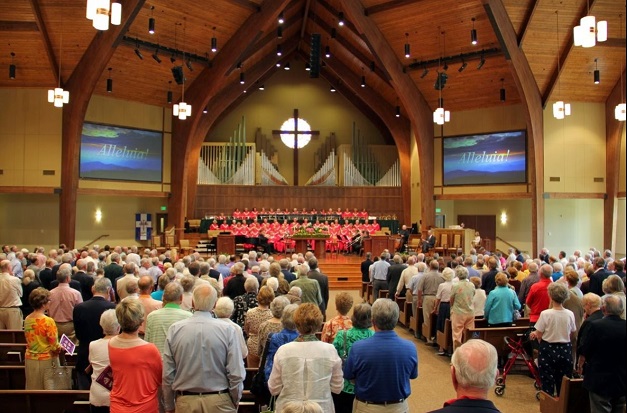 "The Community Church is a place where I can go to be at peace, enjoy fellowship, grow spiritually, and just be myself.  We help each other at church and we reach out to the community to those in need. It's all part of doing the work of the Lord."
---
Our missions impact our community and the world
Our church members volunteer thousands of hours at various local charitable organizations and provide support to assist people throughout the world.  We are a community church dedicated to serving the needs of the surrounding area. We accomplish this through partnering with several local non-profit organizations (such as Habitat for Humanity, KARM, CAC, etc.), providing scholarships to local students to massive food drives and many more organizations.
"A caring fellowship that was very welcoming to a new face."
Our ministries serve our church family and the community
The various ministries of our church focus on ways to serve and support our church members and are challenged to impact the surrounding communities and the world. The ministries range from World Engagement, Discipleship, Congregational Care, Missions, Woman's and Worship/Music. Get involved and make a difference.
"Felt like my church home. Scripture-based worship and teaching. Inter-denomination community is a great concept."
What are you waiting for?
We are just around the corner, conveniently located. For more information about the church or how you can get involved, attend Starting Point or contact the church office at 865-458-1516 or by email at [email protected]. We would love the opportunity to hear your story and where you feel God is leading you. 
"An active church, does a lot of community service, has a lot to offer its members in the way of religious enrichment."
Finding us is easy