PROJECTS AND ACTIVITIES
Our Kiwanis club participates in a variety of projects throughout the year that involve fundraising, community service, and assisting children locally and worldwide. Additionally, we have speakers at our bi-weekly meetings to explore topics of interest to the membership. We engage in a number of social activities to share experiences, talents and our collective interests. All represent great opportunities for service, friendships and personal growth.
Below are just a few of the projects and activities in which we are currently involved: For a complete listing of our projects click on the following link. Kiwanis Project Directory
Amtryke Therapeutic Tricycle Project
Since 2010, The Amtryke Program is one of our club's signature projects. An Amtryke is a specifically designed tricycle created to match the special needs of a child with physical or mental challenges. As of January 2020, our club has presented 73 tricycles valued at about $37,000 to children age 18 and younger who are courageously living with disabilities affecting their motor skills and strength.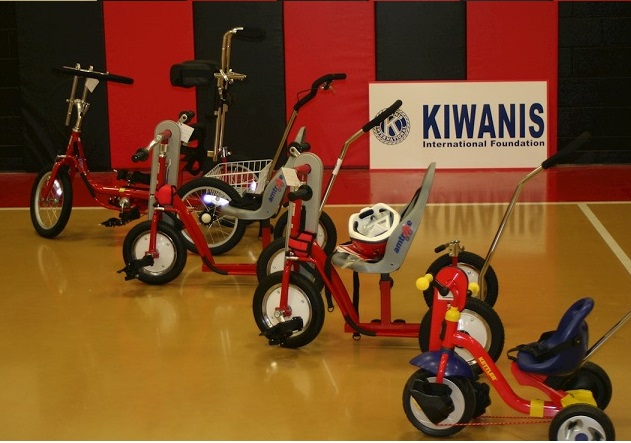 Amtrykes are all about abilities, focusing on what children can do, not what they can't do!
Back To School Program
Our club arranges an annual event where 50 area school children each receive a $100 certificate to spend at a local retailer for new clothes for the upcoming school year. Held in collaboration with the Family Resource Centers of the Lenoir City and Loudon County schools, the event is underwritten through a generous donation from a local corporation.
 PACT (Parents As Children's Teachers)
This program brings the school library to the kindergarten classes at Lenoir City Elementary School. Once a week a cart stocked with library books is placed outside each classroom door.  A Kiwanis member is assigned to each cart and serves as the "librarian".  Prior to the school start each child is permitted to search for a book, take the library card out of the pocket and hand it to the Kiwanis volunteer. The member records name and date of the child.  The child's teacher provides a folder for the child to take home. The folder contains suggestions for the parent as they read the book to their child. The child returns the book with the parents' signature to school.
 Trout In The Classroom
We provide financial and manpower support for this environmental education program. Students in grades K-12 raise trout from eggs to fry, monitor tank water quality, study stream habitat, begin to foster a conservation ethic, learn to appreciate water resources and to understand ecosystems.  In the fall we receive trout eggs from a local fish hatchery.  Fish are fed daily and the aquarium and the water quality are maintained weekly.  In the spring, on a school sponsored field trip, the trout are released in a state-approved stream or river.  As you would expect, students are simply fascinated with the hatching process.
KIWANIS CLUB MEETINGS
The Kiwanis Club of Tellico Village meets from 11:30 AM to 1:00 PM on the 1st and 3rd Tuesday of every month at the Tellico Village Yacht Club, 100 Sequoyah Road, Loudon, TN
Our meetings are open to everyone. Come join us for a free lunch and discover what the Kiwanis Club of Tellico Village is all about.
WHY JOIN KIWANIS?
Best Reasons to become a member of this amazing club…
The opportunity to help
We believe that those who give the most are the happiest. There is nothing more beautiful than individuals who reach out to make other people's lives beautiful. It teaches us the value of service to others and shows us how important our contributions are in making this world a better place most especially for the children.
Personal growth and development
Membership provides education in human relations and personal development. Being in service to others develops good character in every person. It gives us experiences that teach and develop us to become better individuals.
Make friends and be part of something great
Being a member allows one to take part in the many activities and projects we create. We have a great group of members who enjoy spending time with each other for the betterment of our community.
 There are a few different ways to contact us. Choose one that works best for you.
By Mail: Kiwanis Club of Tellico Village, PO Box 592, Loudon, TN 37774
Come to a meeting: Our meetings are open to everyone. Lunch is on us.
Email: [email protected]
Complete a Contact Us Form. Click on link. https://k15626.site.kiwanis.org/contact-us/
---
PLACES TO GO, THINGS TO DO…
Need some ideas on what/where to take your family and friends when they come to visit. This brochure is filled with suggestions of interesting places in East Tennessee and beyond. Pick one up at the Tellico Village Welcome Center or you can download a copy.   Enjoy your time exploring, relaxing, having fun and making memories. Compliments of the Kiwanis Club of Tellico Village. Click on link to download flyer. Places-to-go-Things-to-do-Flyer
---
TELLICO WORKING TOGETHER – A COORDINATED EFFORT TO IMPROVE THE COMMUNITY
Seven organizations operating independently, each accomplishing their organizational missions, can do a lot of good for the community. But when they band together to help each other accomplish those same missions, the synergy generated by those relationship magnifies the impact each can have. This is exactly the mission of the newly formed Tellico Working Together Group. The Kiwanis Club of Tellico Village is a proud member of this unique group.
The seven member Tellico Village organizations, four service clubs and three churches, include the Lions, Kiwanis, Rotary, the Women's Club (GFWC), the Community Church, the First Baptist Church and the Shepherd of the Lake Lutheran Church. Collectively their membership represents a significant percentage of the population of Tellico Village. Each has a different mission focus area. For the Kiwanis it is children; The Lions, vision and sight, The Rotary is schools and dental health; The Women's club focuses on social issues affecting women and families in the community; and the three churches on serving the spiritual needs of their congregants as well as filling unmet needs in various social and economic areas in Loudon County. Click here to learn more.....
KIDS NEED KIWANIS
Kids are curious, lovable and hilarious.
They are also wild, impatient and vulnerable.
VISIT US ON THE WEB: www.kiwanistellicovillage.org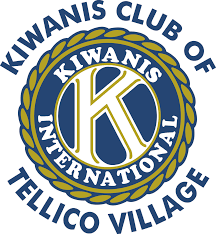 Kiwanis International is a global organization of more than 550,000 volunteers
who serve their communities through local clubs.
To learn more about Kiwanis International, click on the links below.
https://www.facebook.com/kiwanis/