New Villagers Golf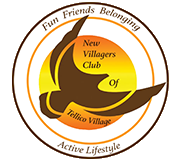 New Villagers (NV) golf is a nine-hole scramble format event for ALL LEVELS of golfers, couples as well as singles.
This NV event is a great opportunity to meet other new villagers, without the pressure of competition.
There are no trophies or standings – just an afternoon of FUN!

Scheduled on the 2nd to 5th Thursdays from April thru October, with a shotgun start beginning promptly at 4 PM, often followed by dinner and cocktails
We rotate between the Tanasi, Toqua, and Kahite courses. We also work to rotate pairing assignments.
We plan to enjoy fun gatherings for dinner, appetizers, cocktails, and games after golf as allowed per Covid-19 guidelines.
Join New Villagers Golf (Annual Membership) 
2021 Registration beginning in January

You must be a member of New Villagers to play New Villagers Golf 
The annual NV Golf Membership is $15 per person per year
You will be allowed to play through the end of October even if you age out of NV
You are responsible for the cost of golf and dinners
Click the Join NV Golf button on the right

 

 

 NV Golf Information

 

Register to Play from the Events Calendar  

 Change your Reservation

If you decide to cancel prior to noon on Tuesday before the NV Golf event, please go to Chelsea and cancel your entry.
*** If you need to cancel within 2 days

of the NV Golf event, please email the Pros to let them know***

Tanasi Pro Shop:  865-458-4707
Toqua Pro Shop:  865-458-6546
Kahite Pro Shop:  423-884-6108



 

 

 

 Forgot if you registered for NV Golf?

Your Registration records are available in TellicoLife:


Log into TellicoLife
Go to MY PROFILE
Under the My Profile tab, scroll down to SUBMISSIONS
Review all submissions to determine if registered for NV Golf

  

 

 

 Looking for more information?
2020 Golf Coordinators:
Pete Miller - [email protected] - 650-814-7167
Patti Miller - [email protected] - 650-814-7194
Becky Feldkamp – [email protected] – 440-396-3793
Dean Feldkamp – [email protected] 440-396-8512
Angele Evens – [email protected] 262-751-6870
Dale Evens – [email protected] 262-391-1546
Bill Bechtold – [email protected] 217-412-0300
Margie Bechtold – [email protected] 217-412-8518
Carolyn Hamm – [email protected] - 440-281-0470
Ed Hamm – [email protected] 440-864-3047
Dave Smith - [email protected] 586-291-4159
Kim Smith - [email protected] 586-291-4153 
Bob Campbell – [email protected]   805-234-5561
Julie Campbell – [email protected]   805-234-3357
Golf Pros:
Director of Golf Operations -  Chris Sykes -

[email protected]

- 865-228-3370

Golf Professional for New Villagers Golf -

 

Casey Flenniken

 

865-458-4707 ext 4504 

[email protected]

Assisstant Golf Professional for NV Golf - Michael Ledbetter 

[email protected]

 
---
 To access this page directly, bookmark:  www.tellicolife.org/nv-golf-home
---